律所要闻 / 條目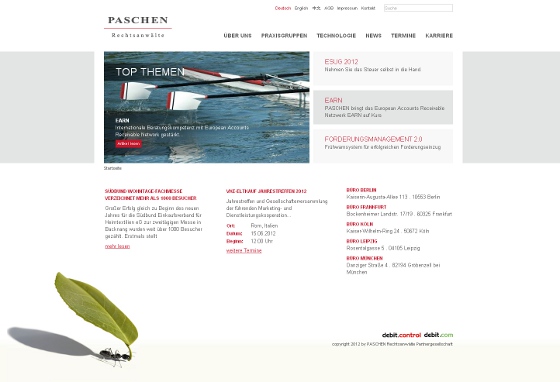 PASCHEN launches new website
State-of-the-art IT technology plays a vital role in PASCHEN's day-to-day business. As this should be reflected within the scope of our external representation, we are pleased to launch a new website adopting latest developments in the field of online presence as well as remedying suggestions and experiences of our numerous visitors.
In addition to a revised graphical design, the relaunched website provides improved site navigation enabling visitors to directly access top level information, such as events, from each submenu item.
Our core client communication tool debit.control is now likewise directly accessible from each submenu item by clicking on the logo on the bottom right. The same applies to our debtor destined portal debit.com which is now integrated into our website.
Furthermore, we have integrated a TOP TOPICS category dealing with up-to-date topics in the areas of our activities and familiarizing our visitors with the respective questions arising therein.
We wish our visitors best enjoyment when visiting the new PASCHEN website and you are invited to provide us with your feedback and suggestions at any time.